Cosplayer @TockCustom – is a Dallas-based sewing specialist with incredible needle work.  He is an award-winning artist who focuses in sewing, prop-making, and cosplay education. The marvelous creator will attend Holiday Cosplay Tampa Bay, December 10-11. The two-day event is a comic, anime, horror, science-fiction, and cosplay haven. Featuring an incredulous line-up of voice actors, comic creators, and a roster of exciting cosplayers. Holiday Cosplay Tampa Bay will also host more than 200 vendors to create the best holiday shopping in the universe for geeks and nerds!
@Tock Custom will be at Holiday Cosplay Tampa Bay both days and is available for photographs and autographs. Also, he will be participating in educational panels throughout the weekend event.
@Tockcustom is sew talented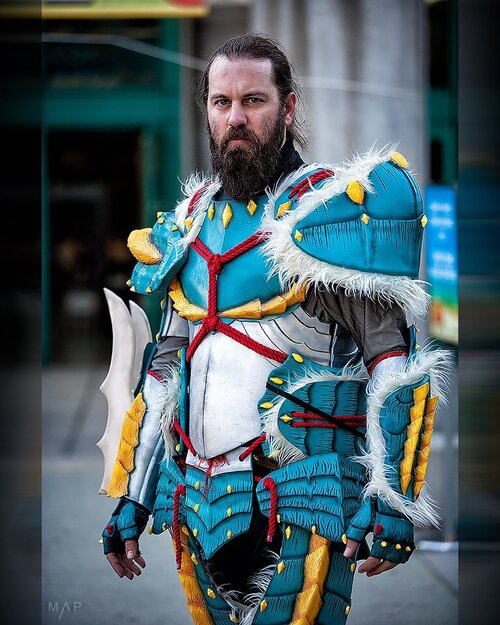 @TockCustom started his journey many years ago and hasn't stopped improving since. The gifted creator has refined his skills throughout the years and his hard work definitely shows! 
"Teaching people to create their own projects is a huge passion of mine. Help yourself to any of the free content I produce to help educate people on sewing and crafting!" -@TockCustom
Here, you can see him with Zinogre Armor from Monster Hunter. 
In addition to appearing at conventions, @TockCustom also creates wonderfully detailed and thorough tutorials online. He shares his knowledge and skills by giving viewers full step-by-step instructions while and helpful advice for beginners of the hobby. He posts the full process and tutorial on his website. Every detailed post also features patterns, videos, and helpful links. Also, check out @TockCustom's website to see his shop and get custom hand-made apparel and accessories. 
Meet @TockCustom at Holiday Cosplay Tampa Bay
You'll have the chance to meet @TockCustom at Holiday Cosplay Tampa Bay 2022 on December 10-11 at the Tampa Convention Center in Tampa, Florida. 
Learn from a pro and and receive advice on how to take your cosplay game to the next level! He will be participating in panels throughout the weekend. Check out the schedule to plan your weekend.